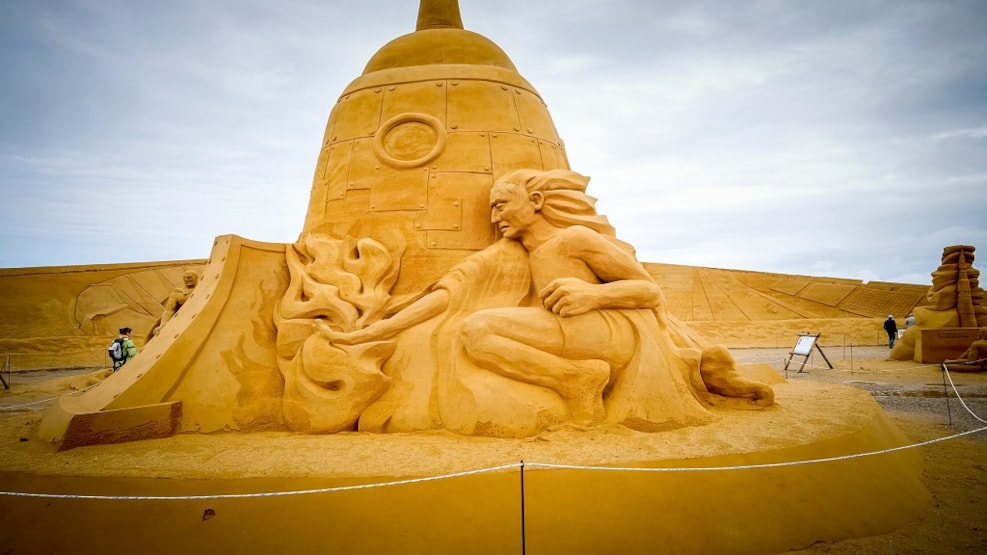 Sandskulptur Festival Søndervig
Sand sculpture festival with different themes every year.
For the fifteenth year running, Søndervig Sand Sculpture Festival invites guests to an impressive exhibition in the world of sand art. Based on the theme "Life under the sea," 12,000 tonnes of sand from western Jutland will be moulded and transformed into a veritable sea of marine life. When the festival site officially opens to the public on 27 May, 2017, visitors will be greeted by seven seas of sheer frenzy, where giant blue whales from the North Atlantic frolic near beautiful and fantastical coral reefs from the Pacific Ocean. But tread waters with care! Piranhas lurk in the depths, ready to attack when you're distracted by the playful dolphins. This year's theme provides insight into the wild and impressive world of marine animals, immersing both children and adults in a spectacle full of life and adventure.
148,200 guests set a visitor record in 2016
In 2016, a record audience visited the festival site in Søndervig, where the theme "Africa's wildlife" attracted a total of 148,200 visitors from near and far. This year's theme builds upon the same recipe, inviting 40 of the foremost Danish and international sand sculptors. And they have already announced surprises and an exciting set-up. Many are returning sculptors from Søndervig's first sand sculpture festival in 2003, and they know what it takes to impress an expectant audience.
This year's theme: "Life under the sea"
Entry:
Adults, DKK 50
Children up to and including age 11, DKK 25. Children up to and including four free
For groups of minimum 10 people comes with DKK 5,- discount per person.
Open to the public:
Daily from May 24 to August  31 from 10.00 a.m. to 7.00 p.m.
From September 1 to October 29 daily from 10.00 a.m. to 5.00 p.m.
The opening hours can be changed by agreement for big groups.
Café Sandskulptur:
Ice cream, snack, soft drinks, beer and more can be bought at the site.
Praktisk info:
You're welcome to bring your own food and drinks.
There are tables and benches at the festival site.
The festival site is handicapped accessible.
The site offers a large sandbox where children and adults can try their own skills as sandsculptor.
Dogs on leashes are welcome too.
Parking for buses and cars.
By pre-booking, our knowledgeable staff can offer a free briefing on sand sculptures creation /
construction (approx. 20 min.)
We look forward to receiving your order by e-mail info@sandskulptur.dk, indicating participants,
date and time of your visit, and you will then receive a confirmation.